APW Central School District Budget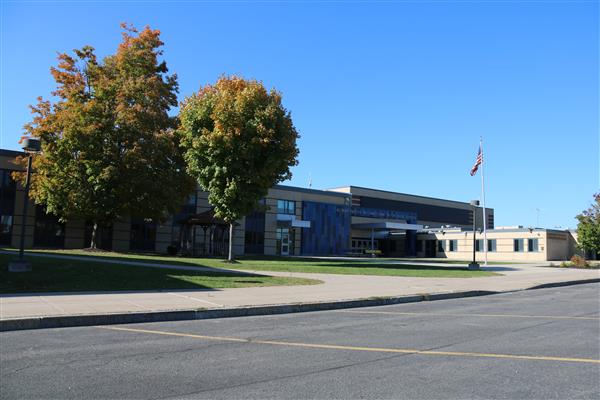 The Board of Education of APW Central Schools voted on May 22, 2019 to move forward with a second vote on this year's proposed budget, which, as promised, calls for a modest 1% increase in the local tax levy, not to exceed $60,000.

The budget proposition reads as follows:

Shall the proposed budget of $32,854,385.00 (THIRTY TWO MILLION EIGHT HUNDRED FIFTY FOUR THOUSAND THREE HUNDRED EIGHTY FIVE DOLLARS) for the Altmar-Parish-Williamstown Central School District as recommended by the Board of Education for the fiscal year ‪beginning July 1, 2019 through June 30, 2020‬, be adopted and shall the Board of Education be authorized to levy the necessary taxes therefor to include a 1.0 % tax increase not to exceed $60,000.00?

The board continues to believe that this is the most responsible path forward, as it makes good on their commitment both to high-quality education for all students and to the long-term fiscal health of the District.

The vote will take place on Tuesday, June 18th from 12-9 pm in the District Office.
Frequently Asked Questions:

If the budget vote on June 18th does not pass, the District will automatically go to a contingency budget beginning July 1st. The contingency budget would require approximately $48,000 in additional cuts, but more significantly would place some limitations on school operations, eliminating non-contingent equipment purchases and, most notably, eliminating the community's use of school facilities for non-school organizations.

This last impact would be felt throughout the community, but would be mandated by law. Under a contingency budget, the District would not be permitted to incur any costs for the use of school facilities by any non-school groups. Outside groups would have to assume full responsibility for all costs associated with school use--including heating, electricity, plowing/snow removal/salt, water, sewer, custodial staff and services, building monitor, security, even the cost of calculating those bills. As this would be impractical, both for the District and for these outside groups, all such groups would have to be excluded.

That would mean the end of school use for non-school-sponsored youth and adult sports (Saturday basketball, alumni leagues, etc.), PTSA events (including Book Fairs, family dances, Rebel Day), community access to the weight room, organizational meetings, Little League signups and practices, and much more. The ripple effects would be considerable but unavoidable under a contingency budget.

Our schools have long been the center of our community, particularly since our consolidation into a single campus. Passing the proposed budget would allow us to continue to serve this important role, whereas a contingency budget would eliminate that option.

Q: Why does the District keep so much money in these funds?

A: When operating an institution as large as APW, all projects carry pretty big pricetags. The most recent building project--roofing work and upgrades to the waste water treatment facility--cost $2 million, all paid from the reserve funds. The safety and security capital project that will begin this summer will cost approximately $1 million, again all covered by reserve funds with no additional costs to taxpayers. If we didn't have these reserves to draw from, we would have to ask you, the voters, to come up with the money, or we wouldn't be able to do these capital projects at all.

Q: Why not just dip into the reserves a little instead of raising taxes?

A: First off, we are. This year's budget is balanced with approximately $700,000 from the debt service reserve, so that we are still using some of the profits from the sale of the former elementary schools to minimize the impact on taxpayers.

Secondly, just like your costs go up each year for groceries and fuel and health insurance, ours do, too. We're working hard to bring costs down (again, remember that our expenses go up approximately $1.7 million each year, but our budget adds only $44,000 this year), but we need to ensure that these cuts happen smartly, in ways that won't negatively affect students' education. Most of our expenses are tied to personnel and programs--the only ways to save big money are to cut the people and opportunities that allow us to do good things for children.

Furthermore, we know that these different 'buckets' of money are not bottomless. If we were to continue dipping into our reserves to cover all of these costs and not ask taxpayers to contribute any more, the District would burn through all of its reserve funds in approximately 5 years. After that money is gone, we would have to come back to you each year to cover every penny of the increased costs of operating the District, and those costs (and your taxes) would continue to rise. We know that's not acceptable to you, and it's not acceptable to us, either. We have to bring our costs and our revenues into alignment, and that's the reason for this modest 1% tax increase.

Q: The voters rejected the budget proposal. Why go to a second vote on the same proposal rather than going straight to a contingency budget?

A: The Board of Education is committed to a budget plan that preserves educational opportunities for all of the students of the District. A contingency budget would necessitate making approximately $500,000 in additional cuts, and there is no way to do that without significant negative impacts on children.

The District's costs go up by more than 5% each year, driven largely by factors that are beyond our control (including rising health insurance and transportation costs). Our revenues simply do not keep pace with that inflation, so cost-cutting is always necessary. The coming year's expenses will be approximately $1.7 million greater than the past year's, but our budget will be increasing by only $44,000. That's because extensive cuts have already been made, carefully planned to minimize the impact on students. It would be impossible to insulate kids from the negative impact of another half a million dollars in cuts.

Q: Why is the District seeking to raise taxes when they've got so much money in their reserve funds?

A: Most of the money in these reserve funds is designated for specific purposes, and much of it is already encumbered (that is, it is committed to specific obligations that the District has already incurred). This restricted reserve money (which accounts for most of the money that the District holds) cannot simply be transferred into general operating accounts.

Some of these funds are required by law, designed to ensure that there will always be the necessary funds available to pay for retirees' health insurance costs, for example, and to be available for the costs of pending litigation. Others have been created to protect the District's taxpayers from sudden, unanticipated expenses such as building repairs. The District is fully in compliance with the regulations and recommendations of the State Comptroller as to how much money can and should be in these accounts.

Much of the money that is in these reserve funds consists of the profits and savings from the closure and sale of the three former elementary schools. The consolidation allowed the District to achieve greater financial security by creating and funding these reserves. Before this, you might recall that there were some really lean years when the District had difficulty even making payroll, and one year when taxes went up by nearly 20% just to cover rising costs.

We weathered that storm and are in a much better place now, but it's important to recognize that the consolidation was a one-time windfall. There are no more buildings to close. Once this money is gone, it's gone forever, so it's in all of our best interests as taxpayers to use those reserve funds for their intended purposes only and to spend them wisely.